February 18th, 2011 by
Bad Guy Joe
All week I've been getting reports of
Maksim Gelman's
various flickr accounts. In the graffiti world, he was slightly known by his tag names: Max, Wes, and WS.
In 2007-2008 he created at least 4 flickr accounts:
"Couch Bombay' -
http://www.flickr.com/photos/24387359@N04/
(Created: March 2008)
'Maxwell' -
http://www.flickr.com/photos/23025603@N07/
(Created: January 2008)
'MaxerBlaster'
http://www.flickr.com/photos/24207016@N05/
(Created: February 2008)
'BentleyBK31' -
http://www.flickr.com/photos/36849363@N07/
(Created: March 2009)
'23allisee' -
http://www.flickr.com/photos/13621034@N06/
(Created: September 2007 )
Something to note about all of these accounts: None of them listed any contacts, and most photos seemed to have minimal views (0-20 tops, few comments), so no one was really looking at them much (thought that will likely change in the coming days I'd imagine)
This account may have been one of his as well:
'thefourthcycle'
http://www.flickr.com/photos/23601238@N03/

(Created: Feb 2008 - same time frame as the others). It features no photos and only seemed to be used to comment on the accounts above. Fake keyboard commando beef? Could be.
The scant few comments that were in some of the photos seem to show
the same amount of beef with other writers he found on the freight tracks of Brooklyn
. Here's 2 examples:
(Now, I know what you guys out there are thinking - look at that ass - so here it again, zoomed in. Here's a good a place as any to note that Max seemed to hang out with this girl for a minute. We can only assume whoever she is, she's counting her blessing today, and could probably make some coin talking to the press at the moment)
He also loved the Beef on everyone's favorite Tagpage Replacement (who here recalls tagpage?!)
Saster:
http://gallery.saster.net/sgallery/displayimage.php?album=34&pos=48
On a more comical side, one of his profile pages states he had it on auto login so he wouldn't loose the password again. This probably explains why he had so many flickr accounts, though it doesn't explain at all why he didn't just use password recovery. I'd imagine he changed email addresses often as well.
Now on to his YouTube appearance:
Max seemed to hang with the Acid crew on occasion - he even makes an appearance in a trailer for their dvd, which is still on youtube as of today (2/18/2011), here:
http://www.youtube.com/watch?v=KMdQvQmSkHM
Wes/max is from 0:39 - 1:05
Just to round things off, in case you missed it, one commenters thinks he's hot: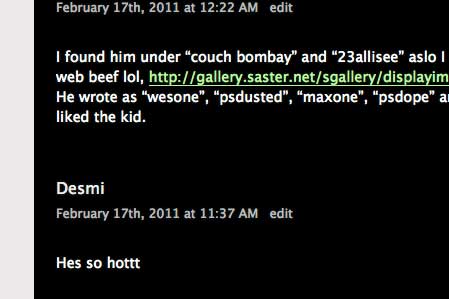 Disclaimer: We here at LTV are not accountable for the apparent depravity of some commenters.
Reminds me of that chick who married
Richard Ramirez
, the LA 'Nightstalker'.
This wraps up todays (and this week's) Maksim coverage. I hate to say it but we'll probably hear more about this cat in the future as he goes to trial, etc. Much thanks to T, Julie & Indent for pointing more towards most of this.