October 10th, 2013 by
Bad Guy Joe
So now that Banksy has been repeated dissed on the streets of NYC, his fans (and apparently even Banksy himself) are wondering why he is so well hated here. There is a variety of reasons:
1) The double standard
If a graffiti artist did what Banksy is doing - illegally tagging walls while leaving trace connections to how he can be found (someone is paying for that truck that's being driven around town)- they would be tracked down and arrested very quickly.
So far the NYPD has said nothing about this situation and so far as we know, they are not going to investigate these serial acts of vandalism. (Drawing on other peoples property in NYC is a crime - regardless of if it is "graffiti" or "street art" - both are "vandalism" in the eyes of NYC law. )
If Banksy were a graffiti writer, it would be a different story.
This fact is made clear by how graffiti artists are treated compared to street artists. When the brothers Sane Smith dominated the streets of NYC,
they were repeatedly arrested. They were slapped with a 3 million dollar civil suit
. When MUL crew painted an entire subway,
they were sent to Rikers on felony charges
, and given 5 years of probation - forcing them to leave the country entirely. And this is only recent history - back in the 70s and 80s when kids were out bombing subways, cops routinely beat the shit out if writers, sprayed their paint in their faces. And then maybe arrested them. Several writers were killed in confrontations with the police,
Michael Stewart is one such example
.
Meanwhile 'Street Artists" like Swoon, Over Under and Faile never get arrested.
The double standard within NYC could not be any clearer. If you are a real NYC writer, vandal squad will raid your house in the middle if the night or come to your job to arrest you. They will try to destroy your life: if your a street artist, they look the other way.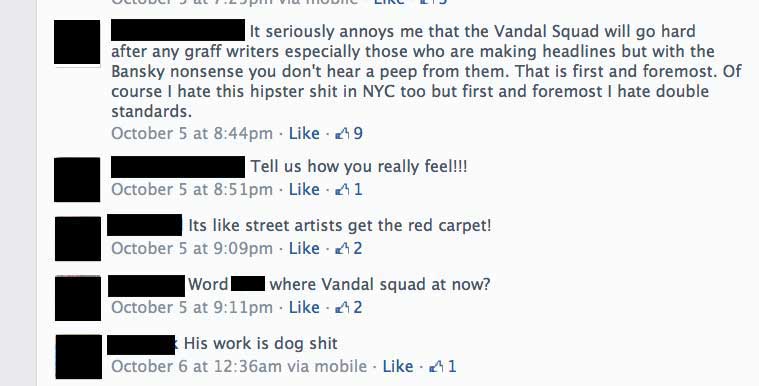 Just a few old school subway graffiti writers commenting on Banksy
Graffiti writers obviously hate cops but in the last few days many old school guys have publicly asked where the fuck are the cops?
Word is that undercover officers have been showing up to guard Banksy's latest works - waiting to arrest the likes if
VX
,
Omar
, BTM and
Smart crew
for dissing his work.
There's even this photo taken in front of a Banksy installation that was put up in East New York today. At the upper right you can clearly see one of the NYPD's street cameras - which had a clear line of sight on the wall Banksy painted on. They definitely got him on tape - the question is why aren't they using the evidence to track him down?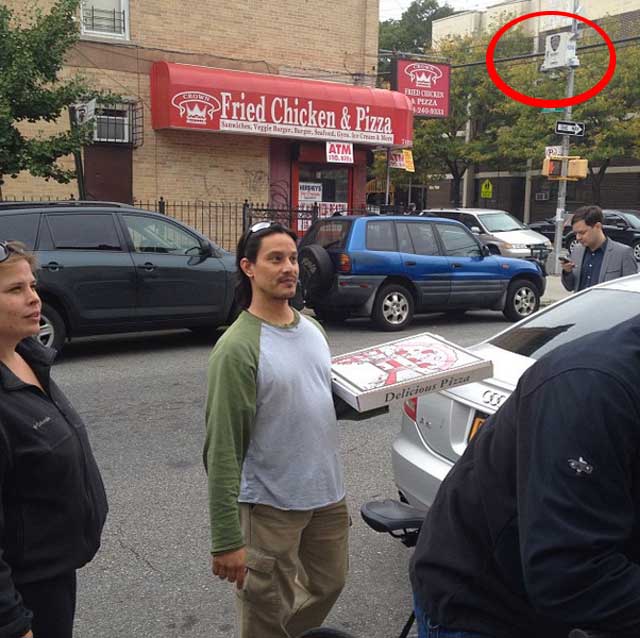 The bottom line is clear: street artists get protection, graffiti writers get arrested, beaten and occasionally killed.
2) The work sucks in comparison.
Check out this piece by Curve and compare it to nearly any banksy. The Curve piece took an hour or 2 of work to put up. Banksy's works are done behind a tarp protected from the eyes of passing cops and probably took 5 minutes to tops working with stencils.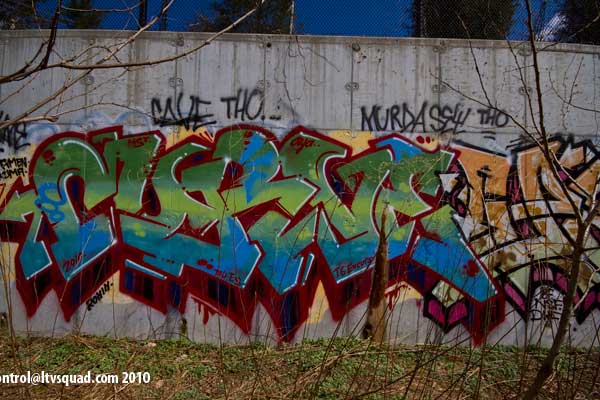 This is but a tiny sample. There are literally hundreds of thousands of better works of art out there that are simply significantly better than nearly anything banksy is doing.
3) Press overload
Every day newspapers
are cornering this garbage. Meanwhile actual street art innovators like Cost get little to no love. If banksy had some skills maybe I could understand the hype, but he doesn't. He's never painted an NYC Subway, or even on a subway platform here. He's never been chased by cops. He simply hasn't paid his NYC Dues, and hiding behind a tarp isn't going to fix that.
4) To round out the disgust - he doesn't even do the work himself.
Word on good authority is that he travels with a team that is paid to watch his back try put up tarps so the cops won't see him / no graffiti artist does that. Real writers like Omar step up even in daylight to crush shit, with no one watching their backs.
5) Straight beef.
In 2009 banksy went over a 20 year old graffiti piece done by London's King Robbo
. His complete lack of respect is disgusting. Rule number six of the streets: don't go over graff that has survived a long time - no matter how rough it's looking. Especially bit graff from a well known well respected writer.
When you mess with one graffiti writer you often mess with everyone else they know, in this case, you mess with Robbo, you mess with Omar.
6) The millionaire factor
"For him to be pulling this off, he must be loaded. All the writers I know are working class dudes holding down day jobs - they can't go stalk a millionaire every night to go over him. They can't afford to rent a truck and pay some loser to drive it around all night. They can't afford to buy a junk car and rent a lot on the Lower East Side to dump it in. NYC writers are working class artists struggle to make a mark on the world. Banksy simply isn't an NYC artist. He never will be. He's clearly a privileged little snot who can afford big lawyers if he gets into trouble. The only real millionaire NYC writer is JA - and that cat paid dues fighting, beefing, and bombing for decades. I wish he'd step up and crush this banksy crap too".
- NYC Writer, Name Withheld.
In conclusion, It's not jealously that drives writers to go over him so much as it is an overall disgust with how the NYPD doesn't arrest street artist/vandals, how bad his work is and how completely over-hyped it is. Destroying his work is the only route graffiti artists have to lash out at this perfect storm of ridiculous media saturation and stupidity.